FRICTION SPIN WELDERS
INERTIAL AND ORIENTATION POWER SPIN WELDERS
Spin welder friction welding includes inertia spin welders and orientation spin welders available in standard or custom spin welder designed equipment.
A considerable advantage to the Power Spin Welder is its ability to produce welds in milliseconds. Not only is productivity increased because of fast cycle times, but this process also produces repeatable hermetic seals with the strongest weld joints possible. This is due to kindling of the joint occurs in milliseconds, which improves the integrity of the weld and significantly minimizes flashing. The capabilities offer many advantages over conventional spin welder.
Power Friction Spin Welder Models
SERIES 7100 – Inertial Spin Welder, Single Servo with Air Actuator
SERIES 7200 – Orientation Spin Welder, Dual Servo, Low to Medium HP
SERIES 7300 – Orientation Spin Welder, Dual Servo, High HP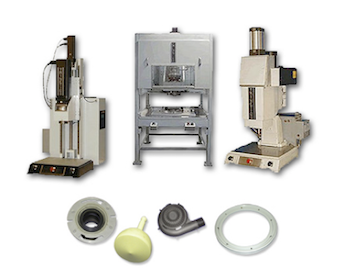 Call for information Call Now
Contact us by email: Send Mail
Links to Equipment
Link To: High Speed Insert Thermal Heat Staker
Link To: Infrared Plastic Welding Systems
Link To: Spin Welders
Link To: Used Ultrasonic Welders
Link To: New Ultrasonic Welders
Link To: Thermal Assembly Systems